There is something from childhood that stills fascinates me: checking out the bank notes wherever I travel. Traveling might not be the right term because I now plan to stay in Vietnam long-term. Anyhow, here is an overview of all bank notes used in Vietnam. No coins are being circulated nowadays as far as I can see.
Hồ Chí Minh, the founder of modern Việt Nam, is pictured on all the bank notes. That gave birth to expression in Vietnamese for receiving your salary which is "I'm about to meet uncle Hồ": cuối tháng mọi người sắp gặp Bác Hồ. Good luck with the pronunciation. I finished today my 36th Vietnamese private lesson and I can't pronounce everything right yet.
Judging by touching, the 10'000 VND notes and higher values are made with a lot more plastic than the Swiss bank notes. Thinking about the damp air and heavy tropical rains in Vietnam, this makes a lot of sense.
Cash is really king here. For various reasons. Firstly as a foreigner, all credit cards do not work everywhere even if it's a Visa or Mastercard issue by a big international bank. The best for now has been Revolut, for both payments and cash withdrawals. I'm really happy I have it. My Revolut card works almost everywhere. Secondly, cash is readily available whenever you want to use it, it needs neither batteries nor an Internet connection. Better to have always some cash with you. I remember when I first visited Zürich in 2009, some restaurants did not accept credit cards and I was surprised.
500 VND
That one is worth around 0.02 CHF.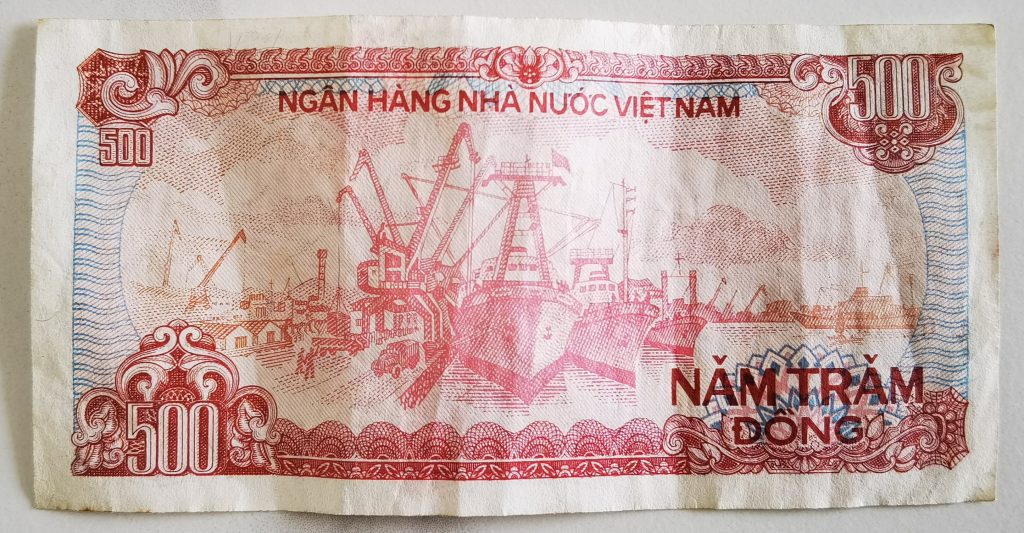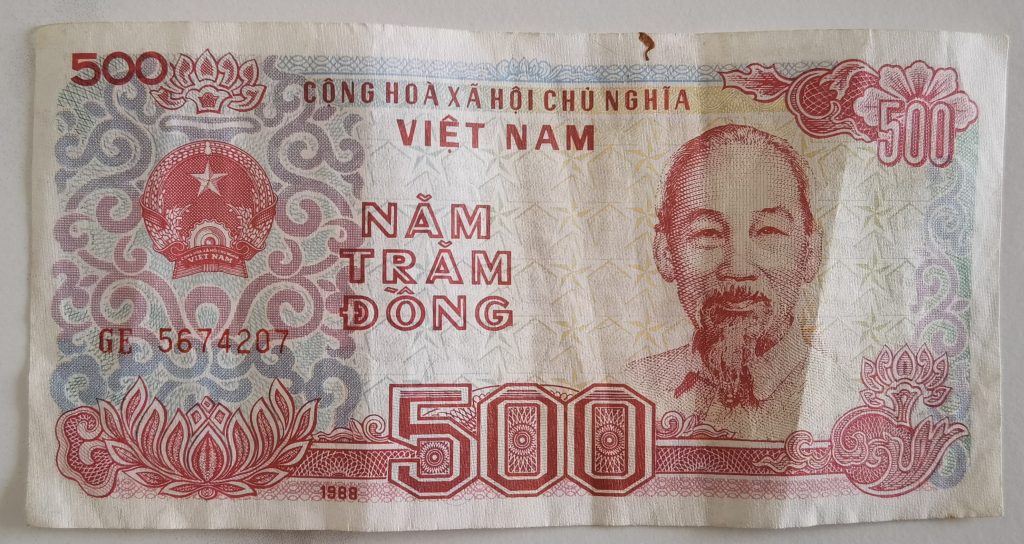 1000 VND
Worth around 0.04 CHF.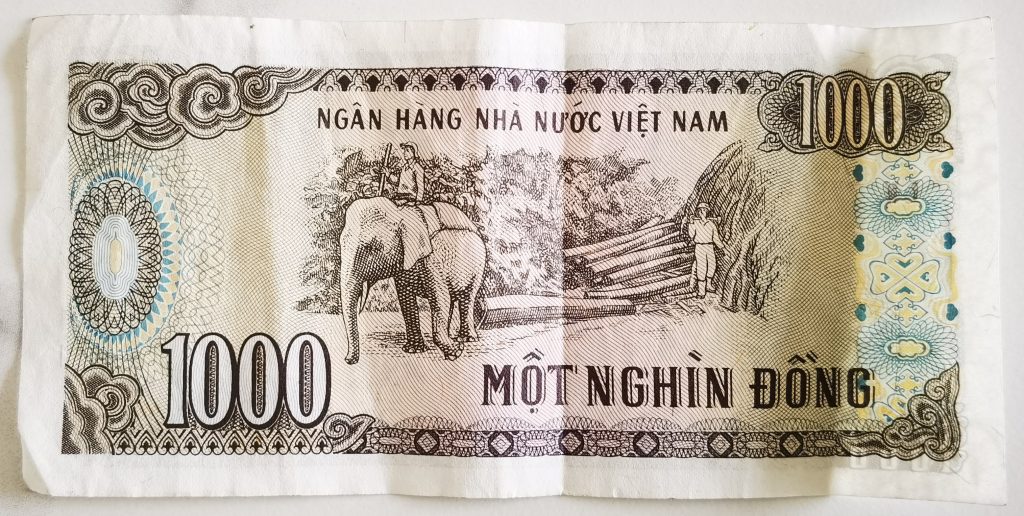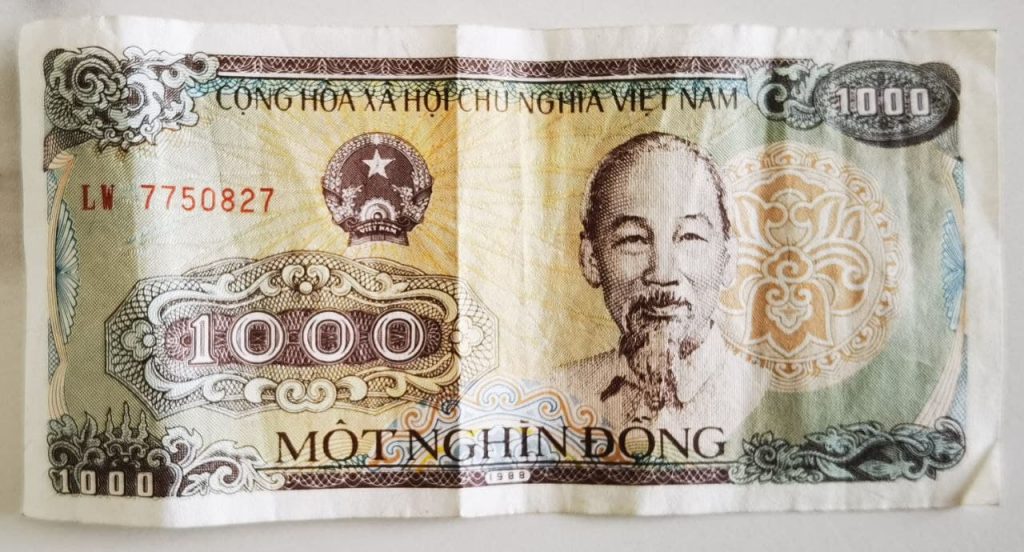 2000 VND
Worth around 0.08 CHF.
5000 VND
Worth around 0.20 CHF.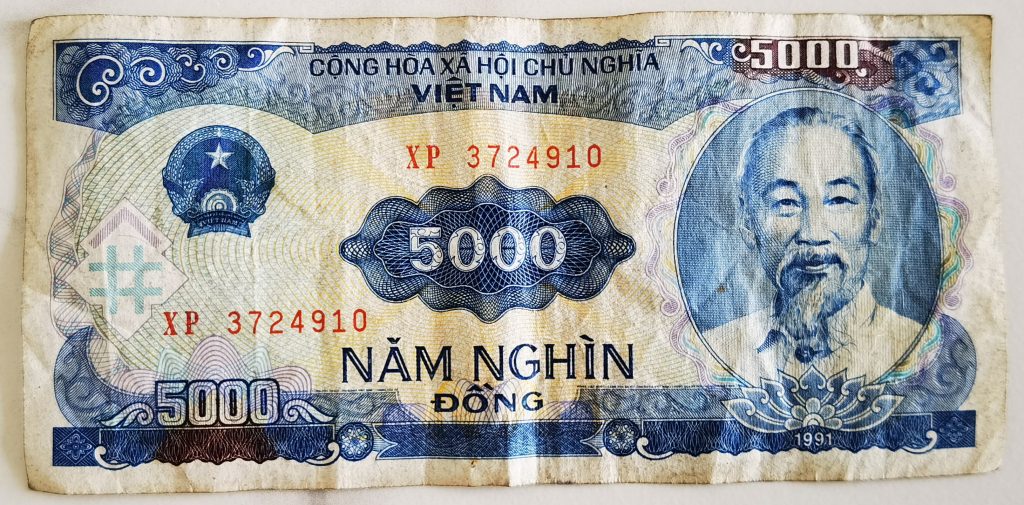 10'000 VND
Worth roughly 0.40 CHF. Yes, there is petrol in Việt Nam too. I finally understood why Americans invaded (joke).
20'000 VND
Worth around 0.80 CHF. This is a famous bridge in Hoi An, a historical city that was full of boutique shops and a good place to have any tailored suit or dress made overnight and delivered to your hotel. Heavily reliant on tourism, the economy fell over there by 80%. In that article, the third picture shows the situation now:
Believe me if you can, but when we went there in 2019, all shops were illumined, and late at night you had to queue in most restaurants to find a seat. A female restaurant owner even frankly advised us to go home and find a quieter and cooler place to eat with the kids back then. I reckon, she was right. And we did go back to our hotel.
50'000 VND
Worth approximately 2.- CHF.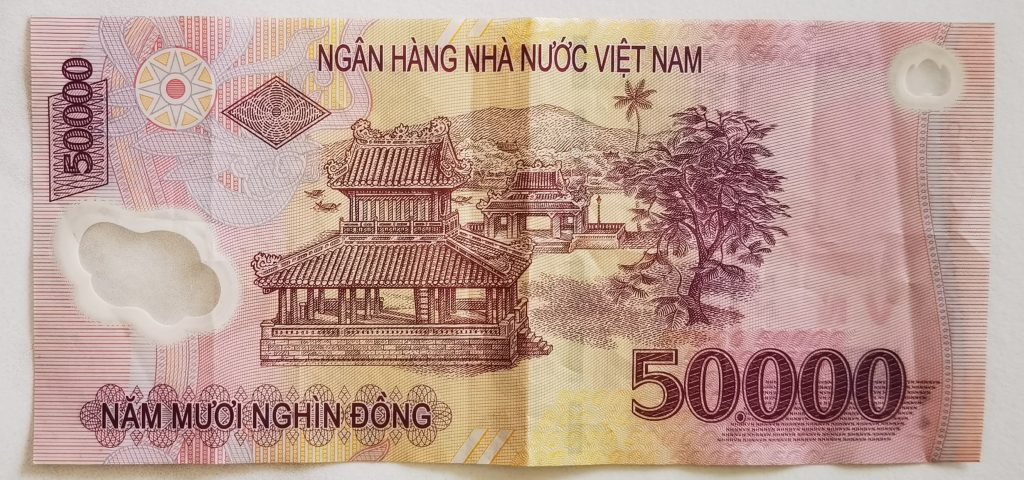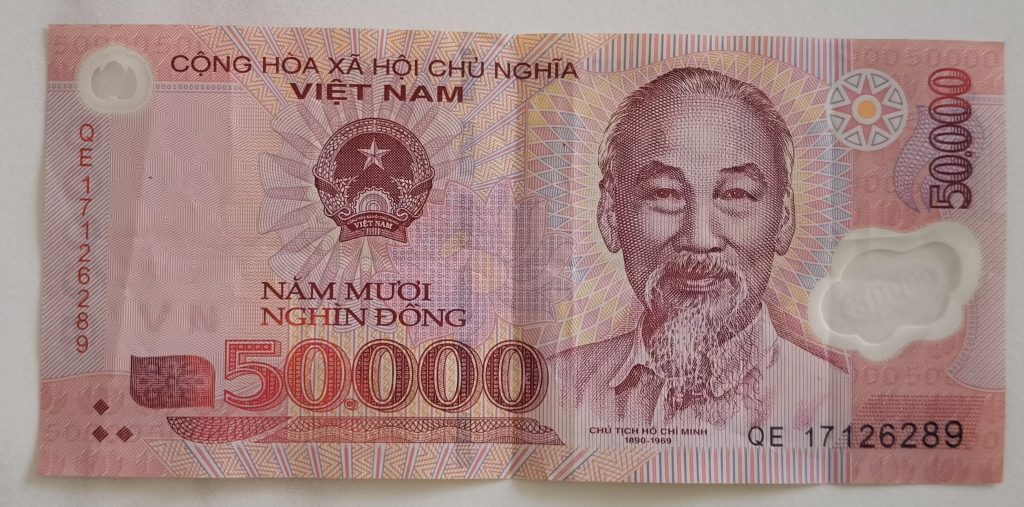 100'000 VND
Worth roughly 4.- CHF. This one features… Hue the imperial city at the center of Việt Nam? no, I was mistaken. This is a drawing of the temple of Literature in Hà Nội, which I will visit one day. It was built in 1070 to honor Confucius.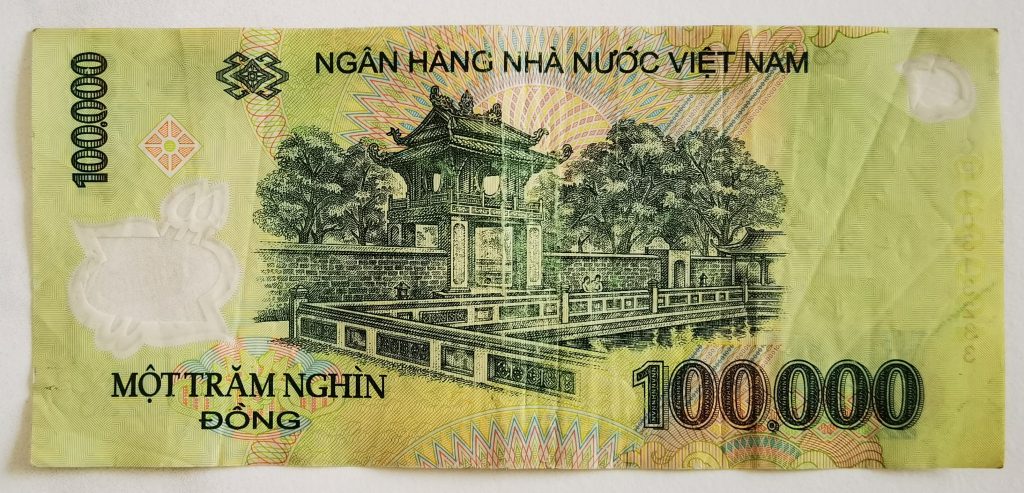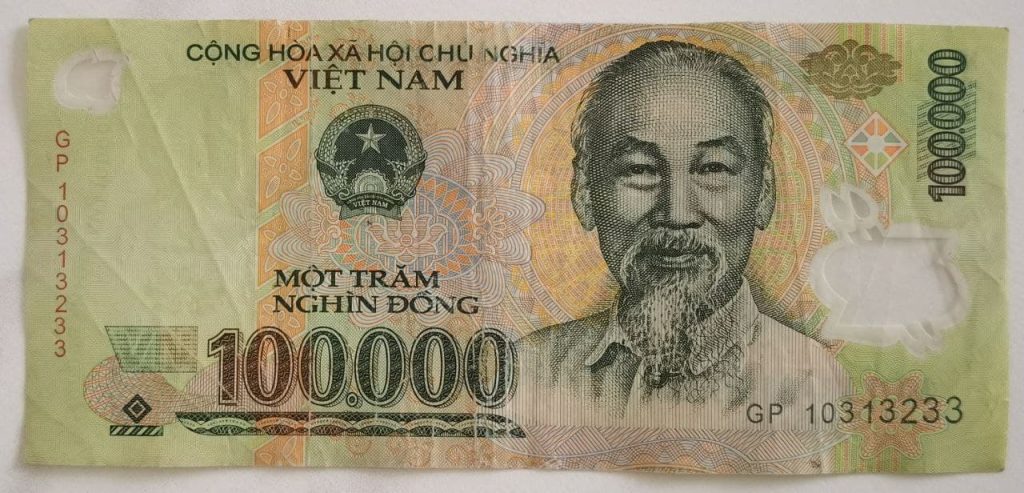 200'000 VND
Worth around 8.- CHF. Do you know that Hạ Long Bay islands are not only gorgeous, but some are also hiding great caves you can visit too? this adds to the magic. The islands are so numerous that the tide gets a different rhythm. Ebb and flow alternate over a few days, and the waters are particularly peaceful. For foodies, there are floating restaurants with fresh fish, shellfish, crabs and shrimps kept alive underwater. My parents-in-law live at 2h drive by car from the departure port to Ha Long bay (Hải Phọng, biggest port in the North). So if you plan to visit, we may want at least to share a drink together!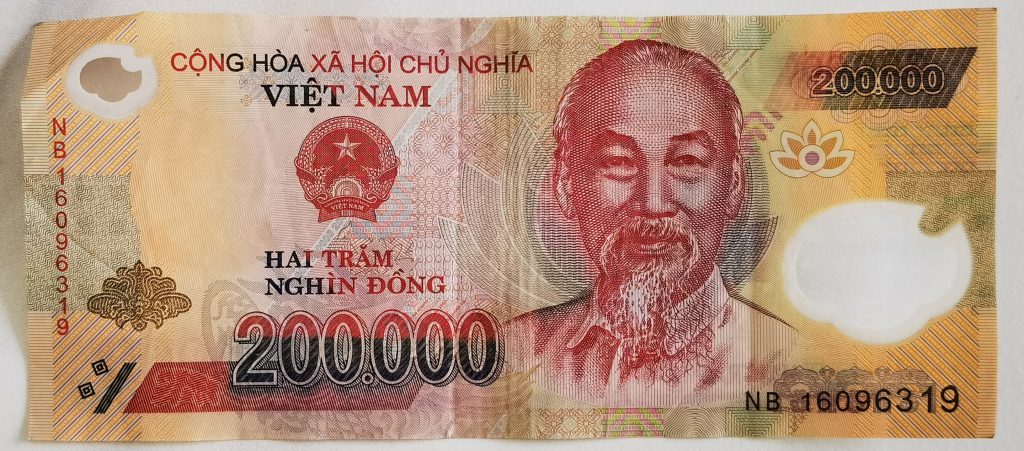 500'000 VND
Last and surely not the least. Now we're talking: this one is worth approximately 20.- CHF.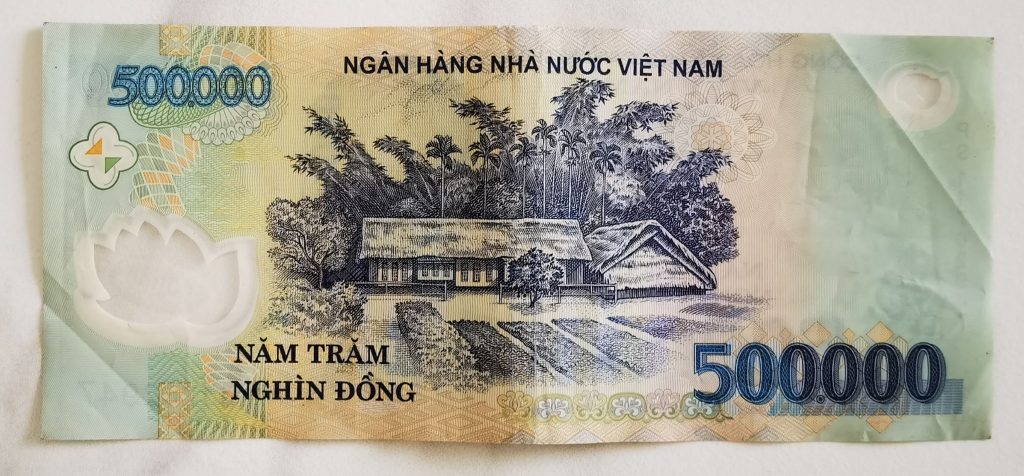 Should you want to read more, the official website of the state bank of Vietnam also lists bank notes that I have never seen since my first trip in 2011.